Post by saladfingers on Sept 25, 2005 3:07:51 GMT -5
----------------------------------------------------------------------------
READ FIRST:
Italized words - Poem / Song
(+) - Indicates that the passage / poem is an excerpt from somewhere, I won't tell
(*) - Excerpt form Silence - A Fable by Edgar Allan Poe
(~) - Originally written by me
Note:
The last 2 sentences of the story is an excerpt from a Sidney Sheldon classic novel The Rage of Angels, with few modifications done by me of course.
For best reading view, click niyo yung VIEW dun sa MENU BAR nyo tapos point your cursor sa TEXT SIZE and choose MEDIUM. Just an advice yo! Gugulo kasi yung mga poem passages pag hindi MEDIUM yung pinili niyo.
----------------------------------------------------------------------------
Genre:
Angst / Romance
Rating:
R for graphic violence and a pinch of sexual innuendo
Pairings:
None
A/N: This story is my best yet. The dose of angst is just right. Hope you enjoy it!
----------------------------------------------------------------------------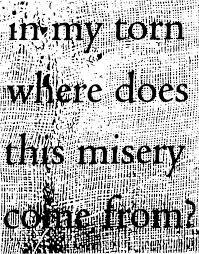 UNLEARN ME
By Ghindie
------------------------------------------------------------------------------------------------------------
"Character cannot be developed in ease and comfort. Only through experience of trial and suffering can the soul be strengthened, ambition inspired, and success achieved."
- Helen Keller
------------------------------------------------------------------------------------------------------------

I am the only one of my kind. I live in my loneliness – with only the memories of the dead to haunt me.
Innocence is but a sham. +
The blade shots downward with a splash of blood. Another dead body lays limp in my arms. Lifeless eyes stare back at me, asking and pleading with a question I never seem to find an answer to. . .
Why?
My actions require no reason it seems. The purpose of the life I lead long forgotten. Life and death has lost its meaning. Am I still of the living or the dead, nobody knows. . .
I am alone. I should not be the one to survive this. My life is but a fleeting excuse. A passing trend.
A disappearing abomination. +
I tread this earth like a shadow – a lurking soul hiding within the enveloping darkness that cloaks this wretched land. If I were to vanish, nobody would notice – my birth undocumented, my death a blessing to mankind. But death has been an elusive enemy, abandoning you when you need it most. Release from the bondage of the secular world I seek, yet here I remain – nothing more than an empty vessel, a marionette without strings.
My soul, my body, my life… seems nothing compared to the sins that I write. ~
For so long I sought for redemption; vindication for sins I no longer remember. But men are unforgiving. No matter how hard I try to wash off my transgressions, their judgment of me never sways. Forever I would remain a menace, a killing machine. Humanity has progressed and left me behind. Mercy no longer exists, with Malice and Hatred as its successor. And this, more than anything, pains me.
But it might not be for me to decide.
Hope, like a fleeting wind, stirs our hearts as leaves
We fall toward the moment when all our fears and dreams collide +
My whole life is a joke, a cruel prank played by the Fates. They say that your life is what you choose it to be, but nothing has ever been my choice. A victim of unkind consequences I am. My path pre-determined, my destiny pre-arranged.
I am consumed by the night.
Consumed by their hate, consumed by their blood lust
I do not deserve peace. Nor happiness. Nor rest
And these I will never have. +
Peace has forsaken me, guilt is my only companion. My every waking hour is a nightmare, with the faces of those I killed taunting and mocking me. Paranoia runs in my blood, increasing with the every beat of my heart. Until the end of my days I shall remain the prisoner of my sins. I will never be free.
Pain, confusion and sadness.
I feel them all. +
Inhuman are my ways, but heartless I am not. Every slash of my blade is a deep cut to my soul. Every life I take diminishes my humanity. My every victim's plea for help is all I hear. As I watch them breathe their last, I know that a part of me dies with them. Always.
I feel myself falling
I fall without ceasing into the spaces of sin
Even when I stand I feel myself falling
Yet here I linger
Touched by kindred hands – Kindred in thought, heart and duty
Kindred in death +
Who would have guessed that I would find one like him? A beautiful creation amidst the chaos of this world. His words a prayer to my soul. His laughter a song. And his touch and kisses a divine revelation. Before him. . . before anything I longed to be embraced in death's arms. I met him and then I was dying to live. Dying to live for him and dying to hear his raw luscious laughter for it can sweep the emptiness from my soul
But Love is nothing but an illusion.
A fragile emotion, a destructive weapon.
A death like no other. ~
BANG!
And as sure as the sun sets, my life held true to course – everything I desire is taken away, everyone I trust betrays me.
BANG!
Two bullets. One on each shoulder – the second nearest my heart. It was a spat in the face, salt in a wound. It was a pain beyond description. It all makes sense now, all that curious inquires about my life were nothing but a deceptive plot for my death. I should've known. It was too good to be true, after all.
But darling, darling , darling. You should've known that I can not die.
It was night, and the rain fell; and falling, it was rain, but having fallen it was blood. *
I can't die, my love. You of all people should've known that. I am past any physical death. Nothing can kill me. Your death by my hands would be nothing but a painful memory after I'm through with you. I shall bathe in a rain of blood. Your blood.
Ignoring the pain in both my body and soul I lunge towards him with knife in hand. I slash his face, aiming for his eyes. For I can not stand to see them. It breaks my heart to know that I once loved the way they looked at me whenever we made love. The flicker of life mirrored in his eyes is an insult to my existence. I shall pluck them out, squash them and taste the blood in my hands. And I tell you, I shall love its taste as much as I would love to see him die.
And as I bury the blade deeper in his heart, I stare in his eyes wanting to know why. The tables were turned, it was now me asking. . .
Why?
Edging towards death he whispered the words, Love Eternal. I wanted to laugh. It was absurd. The logic behind his reasoning is beyond me. Could it be that he assumed that death could be my only salvation? Was he planning to kill himself after he slays me? Thinking that we would be together after our souls separate from our bodies? Free from hate, free from the shackles of the world? Eternally in love in a place devoid of fragile human emotions? I paused, he had a point but flawed. Nothings escapes. As long as there is love there will always be hate. But it is useless to contemplate about it now, with my fingers wedged between his rib cages it was 10 minutes too late. It all ended the moment he pulled the trigger.
In spite of everything I still felt a great loss as I watch him tumble to the ground, blood oozing from his disembodied limbs. It was then that I realized that my emotions have proven to be my own undoing. I shall unlearn them. No longer will I feel. Numb shall I be.
I dance to the music of misery.
Misery will write my memories.
Pawns living and dying,
We play the game. +
Dark and Possesive, that was what our love was. A twisted emotion that defied time and space. Would he want revenge.? Someday we will meet again and all my questions shall be answered. But for now, I must continue this charade I call living.
I spare one last look at his corpse, seeking closure I know I will not have. Plauged by questions as to whether or not what I did was right, I turned to leave. I cringe at the pain of my bullet wounds as I pulled my coat tighter. Peering into the darkness ahead, I move as though trying to see into the future. But it seems I was looking into the past, trying to understand when it was that all the laughter died.
I shall rise from the ashes of sorrow. . . I am. ~
------------------------------------------------------------------------------------------------------------
"Death be not proud, though some have called thee Mighty and dreadful, for thou art not so, For those whom thou think'st thou dost overthrow, Die not, poor death, nor yet canst thou kill me."
- John Donne
------------------------------------------------------------------------------------------------------------

THE END